If you want to spend your holidays on the Azores, we can offer you accommodation in our holiday home
on São Miguel. In addition, we are happy to help you plan and prepare your holiday so that these times can really appeal to all your senses. We have put together some tips for planning your trip here, but you are also welcome to simply contact us.
To the availability request
For reservations in the period until 30.06.2022 with a minimum stay of 7 days, you will automatically receive a 10% discount below.
The Casinha Dos Cinco Sentidos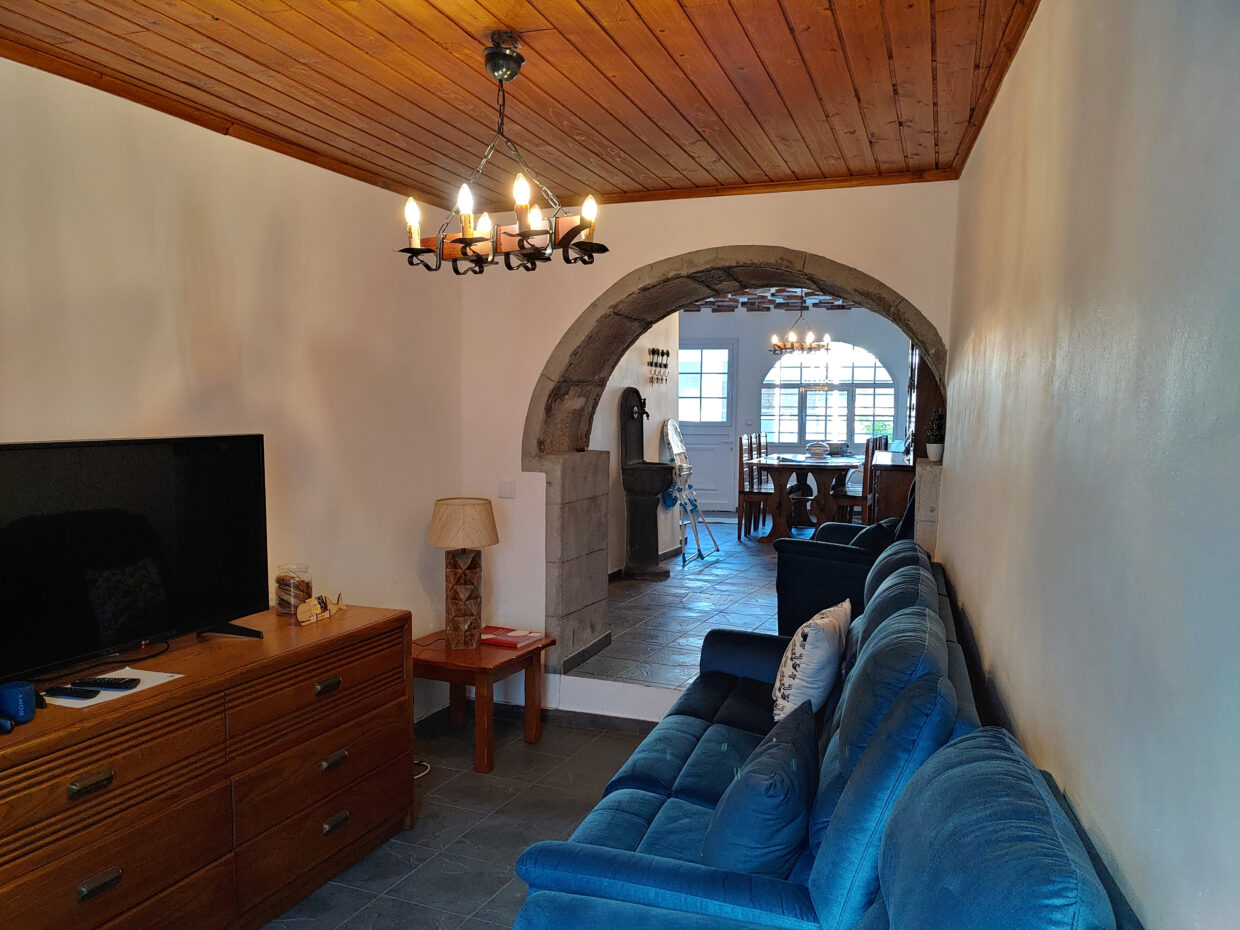 In 2020, the house was completely refurbished, all installations were renewed and refitted in such a way that the typical charm was preserved. For example, a small dishwasher was integrated into the kitchen, and the sensitive gas appliances were replaced by modern and economical electrical appliances. In the house, the wood lends a pleasant ambience. The Casinha Dos Cinco Sentidos offers generous space for 4 people in two bedrooms. From the roof terrace you can enjoy a view of the Atlantic Ocean and the highest mountains belongins to the island. But see for yourself, some pictures say more than 1000 words.als 1000 Worte.
Our house has two bedrooms (both with double bed). A baby cot is available in the house and can be used if needed. On the terrace you can use the barbecue area, which can be closed with sliding glass doors, even if the weather is not so good.
This holiday home has Wi-Fi, TV, washing machine with dryer, dishwasher and every kitchen appliances imaginable.
The hot water comes from a modern, energy-saving heat exchanger-based storage tank and not from the usual instantaneous water heaters. The often installed instantaneous water heaters begin to no longer keep the temperature constant over time and then switch off again and again due to overheating. It is also very unpleasant when the gas bottles run out in the middle of a shower, and you have to finish the shower in the cold. Moreover, we don't use gas for cooking in the house, but an induction hob.
Recently, we were able to make an agreement with Futurismo, which allows us to give our guests a 15% discount on their bookings with Futurismo. Of course, we will be happy to provide you with the necessary information.
The most important places to go…
Everything you need during your stay in our holiday home is just a stone's throw away on São Miguel. Here we have put together the most significant places you might need during your holiday.
If you would like to send us a reservation request, you can easily do so using this form. We will get back to you as soon as possible.
Casinha dos cinco sentidos
Here, you can see in the calendar of all houses if one of the house is still available on the desired date.
Casinha dos cinco sentidos
Of course, you can also contact us by email or phone. And if you require accommodation for more people, take a look at the Casa dos cinco Sentidos, which is only 8 km away, or simply contact us.
The "Casinha dos cinco Sentidos" is registered as Alojamento Local under RRAL nº 3308.