So far, we have mainly focused on introducing São Miguel's quieter side on this blog. Today, we would like to invite you to release your inner adventurer for an exciting canyoning tour. Of course, we have tried it out ourselves in order to tell you about our own experience. There are a couple of different providers of canyoning tours on São Miguel, and as I'm sure you'll understand, we cannot try them all. This is why we followed the recommendation of some friends and contacted Azorean Active Blueberry. By the way, Futurismo, whom we have recommended for the Whale Watching tours they offer, also brought some people to the tour, as apparently they don't offer them themselves. We booked through the Azorean Active Blueberry website, as this enabled us to pay for it by card. Alternatively, we could also have paid in cash before the start of the tour.
glasses, equipment, etc.
Since two of us wear fairly strong glasses, we first had to ask whether that would be an issue – which it wasn't. The team always carries special bands that secure your glasses so that nothing can happen to them. Events are offered according to different levels of difficulty, which means that the easiest tours are available for nearly everyone. Even children as young as 5 years can easily come on the easier tours. All the necessary equipment and experience is supplied by the very friendly staff. During the tour, they will take some pictures and videos for you to take home as a little souvenir.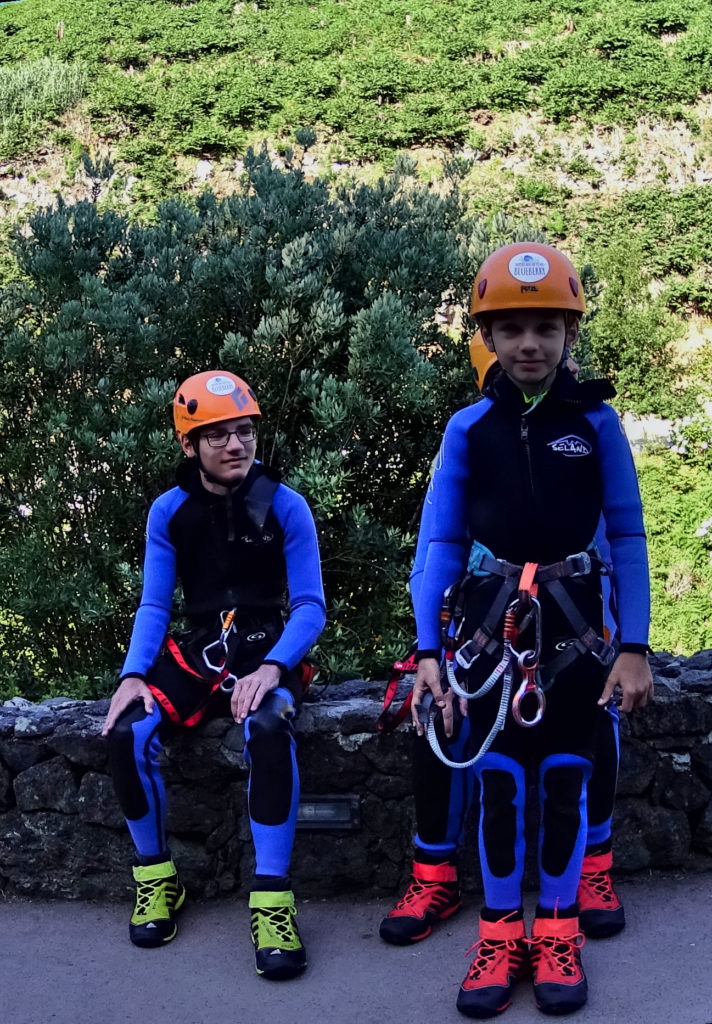 The canyoning tour begins
The tour itself started at 9am. That was very convenient for us, especially since the starting point, the Ribeira dos Caldeirões, is only 5 minutes from our house. Thus, we were able to all enjoy a nice breakfast together. Once we had arrived and been greeted, we were able to put on our equipment. Non-slip shoes, wetsuit, helmet and the belt for abseiling were easy and quick to put on. Next, we proceeded past the manmade waterfall to the much nicer, tripartite waterfall a little further up the river. This is where the interesting part of the tour really began. Several times, we passed smaller waterfalls and rapids, which we were only able to conquer through some "brave jumps" when going downstream.
Whenever that was not possible, our only other options were abseiling or simply sliding. Each time, the crew made sure we were all secured appropriately, and they generally did their job very well and professionally. Surely there would have been an alternative way around the rapids, but none of us needed it. The heights slowly increased, from 1-2m at the start to 4-5m at the end. This, surely, was a great exercise in courage for all participants.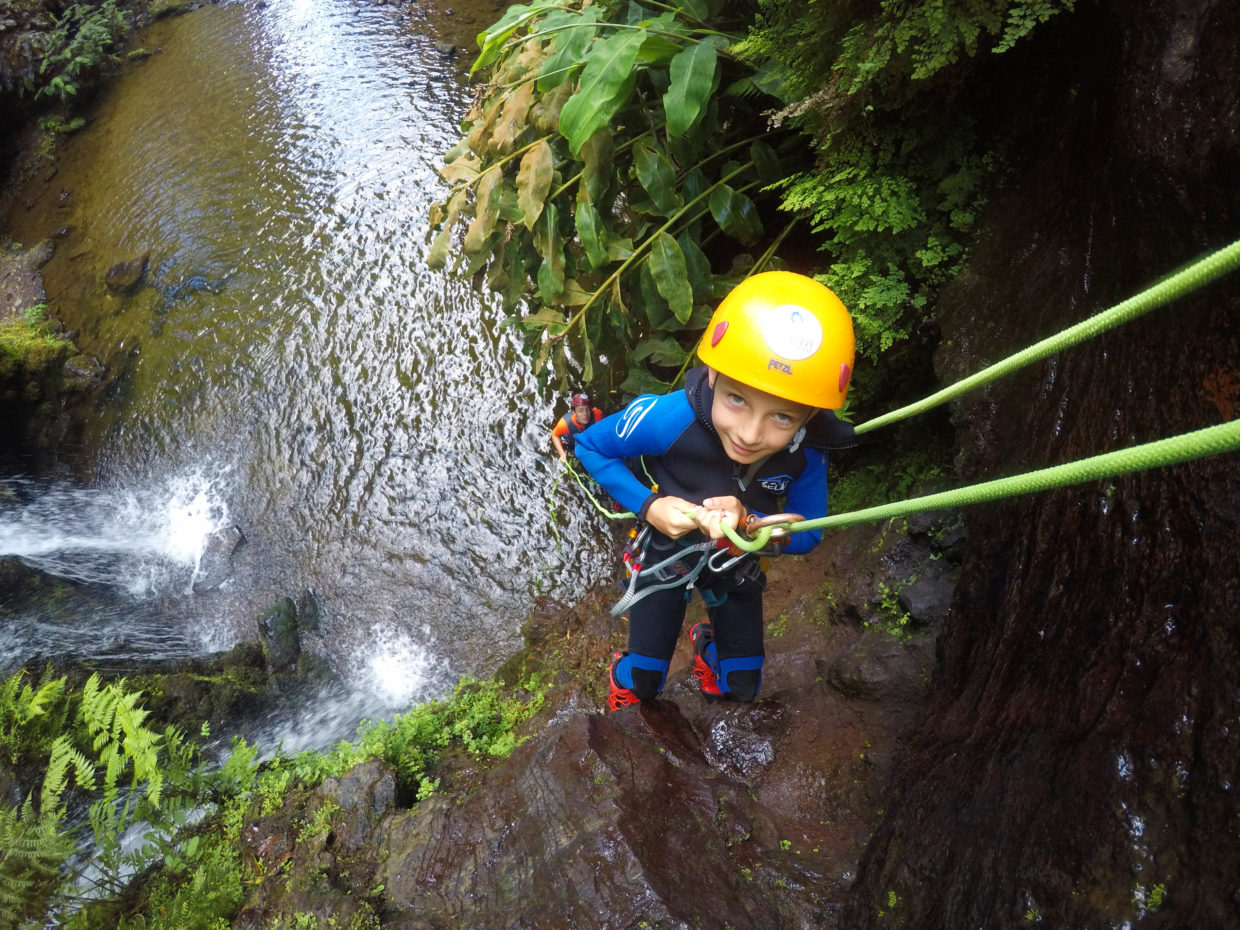 The crowning glory of the Canyoning Tour
At the very end of the canyoning tour, there was a special bonus jump. This jump definitely does take a bit of courage, as the water we were supposed to jump into was about 6 or 7m below. If you have ever stood on the 5m board at the swimming pool and looked down, you might understand how it felt. Don't be worried though, no one there would ever pressure you to do something you don't want to do. This is important, as, at the end of the day, the tour is supposed to be fun for everyone. On top of that, I always think that reaching a goal always feel better if I do it because I wanted to, not because someone else told me to. In the end, about half of the participants on our tour made the jump. My 10-year-old son was one of the first. I was mightily impressed…
All in all, this was a great adventure and a nice, slightly different thing to do. We would definitely recommend giving canyoning a try!