The Azores have a couple of regional dishes, such as cozida nas caldeiras, lapas, bolo levedo, quejio. People who love fish and seafood will definitely get their money's worth on the island. However, if you prefer meat you're also sure to find something you like. The island has fantastic restaurants to offer in various different locations.
Os Melos
A very nice, small restaurant is "Os Melos", where you can have a cheap lunch (7,50€ per person excluding drinks, May 2018) in the form of a regional All You Can Eat buffet with various dishes. It can be found in Achadina (R. da Canada 25, Achadinha). We have often had a rich, tasty lunch there that offered something for everybody. (find the map here)
Casa De Pasto O Cardoso
During our visit in August 2018, we went to the small restaurant "Casa De Pasto O Cardoso" in Lomba da Fadenta next to the church. The main dishes cost somewhere between 6,00€ and 16,00€, and the portions are large and very delicious. We would especially recommend the meat a casa and the pea soup (the soups offered may vary daily). (find the map here)

O Sagitário
In Maia, near the church, you can find the Restaurant "O Sagitário", where you can pick fresh fish for lunch (depending on the day's catch) which is then BBQ'd for you. If you're just coming back from a hike to Praia da Viola, you can enjoy a meal here on the large, canopied terrace. Outside of the main season, the choice of meals is a little smaller, but we still recommend the food. (Address: R. de Santa Catarina 27, Maia). Aside from fish you will also be able to find a variety of other dishes, although freshly BBQ'ed food is the speciality at the "O Sagitário". Please note that at the "O Sagitário", the "Couvert" (bread, cheese….) is served in the classic way of just being placed on the table without you asking for it. This was completely normal until a while ago, and who eats it also has to pay for it. If you really don't want this, please immediately let the staff know that you don't want a "Couvert" when they bring it. That is only fair and definitely better than arguing over a couple of euros at the end of the meal. (find the map here)

Ponta do Garajau
In Ribeira Quente you find the restaurant "Ponta do Garajau". You should book a table here during the summer months, because the restaurant tends to get very busy, which is also why, unfortunately, we have not managed to try it ourselves yet. You will be seated in a small, idyllic courtyard that is sheltered. (Rua Dr. Frederico Moniz Pereira 9, Ribeira Quente). (find the map here)

O Sole Mio
If you would like to enjoy some Italian food, you should visit our favourite restaurant on the island. The Pizzeria "O Sole Mio" is situated in Ginetes, to the West of São Miguel. They offer various pizzas and varying dishes of the day. The restaurant is run by an Italian family with a really nice team (Rua Maestro Viveiros Pimentel 5, 9555-066 Ginetes). A house specialty, especially for kids, is the Pizza O Sole Mio (pizza with nutella and oranges), that is well-loved not only by the younger guests. The pizzas cost around 5€ to 8€, which is excellent value for money. (find the map here)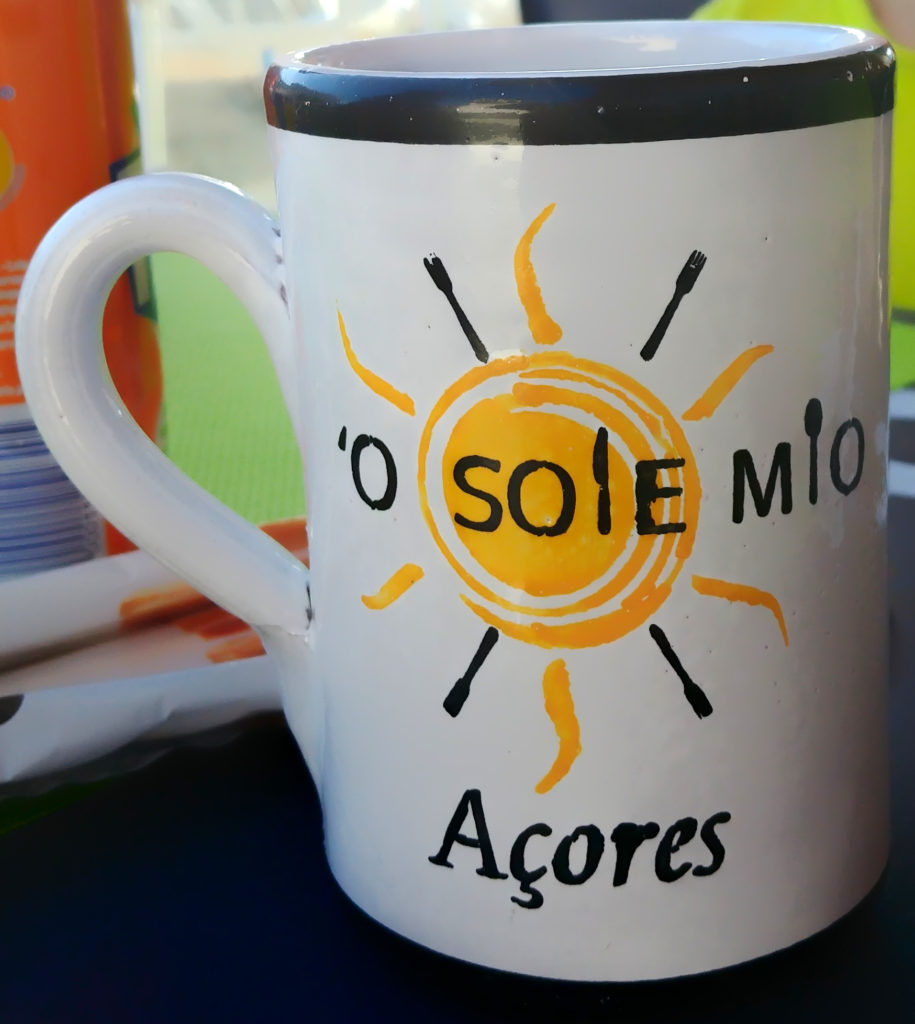 Since we re-visited this place in 2019, we can also recommend the added dishes made with fresh pasta. The mug, by the way, is from the manufactory "Cerâmica Micaelense", which you can learn more about in our post about souvenirs from São Miguel.

Nut Ponta Delgada
For everyone with a sweet tooth, we have a special tip. The café "Nut Ponta Delgada" (Nutella restaurant) in Ponta Delgada. It's a very small café where you can enjoy many sweet treats and drinks. (R. dos Mercadores 52, 9500-064 Ponta Delgada). Not incredibly cheap, but it's Nutella!!! (find the map here)

Yacht Club baía dos anjos
An excellent place to eat and relax is the Ponta Delgada harbour, and especially the restaurant "Yacht Club baía dos anjos", Av. Infante Dom Henrique 111, 9500-150 Ponta Delgada. Here, you can enjoy freshly caught fish which you can choose from a display and also some meat dishes. In terms of pricing you're looking at a mid to high range, which is not surprising given the amazing location. You can park in the car park right next to it. If you're looking at the restaurant from the shore, you will be able to get snacks and drinks on the right hand side. The meals, however, are served in the bit on the left hand side. (view map)
O Miroma
In and around Furnas, you can find several restaurants that offer the stew "cozida nas caldeiras", which is cooked in volcanic sulfur pits. For example, there are the "O Miroma" and "Tonys". After many years and many visits to São Miguel we have only managed to eat at the "O Miroma" now, in autumn 2018. During summertime, it was simply to busy for us. We can happily recommend the "O Miroma" outside of the main holiday season, or during summer if you are not put off by the large number of people eating there. The selection is great, the staff are friendly, and all of us greatly enjoyed the food. (view map)
The Exception
On the entire island of São Miguel, we have only found one restaurant where we were treated very rudely, and not even properly served. Apparently, we were not the only ones who thought so. The restaurant has managed to acquire an average TripAdvisor rating of 2.5 out of 5 stars on 290 reviews, and an average Google rating of 3,2 out of 5 stars on over 600 reviews (as of October 2018). We will not name them, but we will advise you to do extensive research especially when visiting the lakes of Sete Cidades, if you're planning on eating there. Many of the restaurants that we happily recommend are not far from there and a nice location isn't all that's important to make a good restaurant.